Company Overview
Since its founding in 1984 as a small supplier of collets, Centaur Precision Tools has grown to become a major manufacturer of collets, tap collets, tool holding collets, sealed collets, collet chucks, and more.
Today, we are proud to offer quality products at affordable prices, easy and reliable ordering, knowledgable technical support, and unique tooling designed to give you a competitive edge.
We are able to offer these advantages by continuing to invest in infrastructure to support the changing needs of our customers. At present, we own and control our manufacturing facility, run all of our operations from our headquarters in Miami, Florida, and carry a huge inventory of finished products ready to ship from one of our three warehouse locations in the USA.
In our continued commitment to serve you, we offer unique tooling engineered to increase performance and precision, while saving you time and money. See: Centaur "Green Zone" Collet Chucks, Centaur High-Grip™ Milling Chucks and our high-performance Centaur µmatic Chucks.
If you have any questions, please see our FAQ or contact us.
Thank you for visiting Centaur Precision Tools and for considering us for your tooling needs.
Your partners in production,
The Centaur Team.
Partners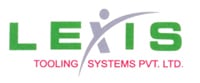 Lexis Tooling Systems is an affiliate of Centaur Precision Tools Inc. They are a leading manufacturer of tool holding systems in India and one of the largest exporters of collets globally – exporting to Europe, USA, Canada, South America and other parts of Asia.