Where can I buy Centaur products? Do you sell direct?
Centaur products can be purchased from the Centaur Web Store at 25% off MSRP; or from Authorized Centaur Distributors.
Does Centaur do repairs and/or sell repair parts?
Some Tapping Chucks can be rebuilt and we sell commonly used repair parts. Collet and Tool holders are not repairable. Contact us for more information.
Do you manufacture specials?
We are a manufacturer of collets, tap collets, sealed collets, collet chucks, and we are able to make special Collets and other products within this grouping. You will need to provide us the proper specs and drawing (if possible). If you have a sample of the item that you would like for us to produce, please send it to us for examination. Usually, there will be a five-piece minimum order quantity. Contact us to get started.
Orders for stock items normally ship the same day as received.
From which state will my order ship?
The majority of our items are shipped from our warehouse out Miami, Florida. We also have a facility in Huntington Beach for our West Coast customers.
Are UPS & FedEx the only shipping methods?
UPS is most commonly used. FedEx, DHL and USPS can be used if requested.
Is there a minimum order quantity?
Is there a restocking fee? What information do I need to return an item to Centaur?
Restocking charges apply to items ordered in error. Customers must obtain a Returned Goods Authorization prior to returning. No returned items can be accepted without the RGA.
How can I get a Centaur Catalog?
At this point and time, we would prefer it if you would download our catalog from our site. Let's save some paper, people.
What are Centaur Certified Collets?
Centaur manufactures each collet from high-grade spring steel and are hardened and fully ground for absolute precision.  Centaur Certified Collets are 100% inspected for Function and Concentricity with specialized in-process and post-process gaging. They are certified to be within published specifications.
What is the Centaur "Green Zone"?
The Centaur Green Zone refers to full-radius contact design that centralizes the cutting tool. This provides concentricity that increases tool life, enhances feed rates and rpm, and improves workpiece accuracy and finish.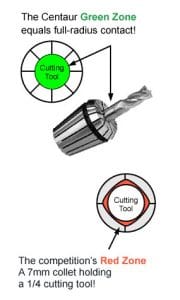 What is the difference between ER and RD collets?
RD was Centaur's designation for ER Collets. They are the same.
What is the difference between RDG and TG collets?
RDG was Centaur's designation for TG collets. They are the same.
What is the difference between RDA and DA collets?
RDA was Centaur's designation for DA collets. They are the same.
What is the difference between RDF and AF collets?
RDF was Centaur's designation for AF collets. They are the same.
Do Centaur's tap collets have the square in the bottom?
On Centaur's straight shank holders, is there a flat on the shank?
Some do depending on the style. Check with us on specific sizes.
Is Centaur ISO certified?